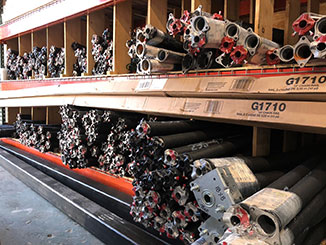 Contrary to popular belief, the garage door springs enable the motion of the door, not the motor. The opener supplies the automation so that you don't have to manually open and close your door but your springs are still responsible for most the heavy lifting. To function this way, your springs are under a lot of tension all of the time.
Spring Tension Matters
A garage door comes with a range of moving parts, most of which would be negatively impacted by unbalanced springs. As such, it's important that spring tension is adjusted to ensure the balance of the door. Too little tension and the door will likely come down too fast, hitting the ground hard. This can cause vibrations throughout the door, and lead to accelerated damage in the long run. If the springs are too tight, it's likely your opener will have to work harder and the door will start moving slowly. The way to test this is to temporarily disable the opener and attempt to manually open your door - if you can lift and lower it without breaking a sweat, it should be OK. The rollers should guide the door down so that the door touches the ground softly.
Damaged Or Broken Spring
Trust us when it comes to replacing your damaged or broken garage door springs - we've been providing service in this area for many years and our vast experience speaks for itself. Garage door springs are some of the trickiest parts to handle - they're also the most dangerous components to replace or repair. We are aware of this and give due caution when working with them. We only send our experienced technicians for these jobs and advise you to not attempt this kind of work yourself.
Extending The Life Of These Components
These components won't last forever but there are steps you can take to maximize their lifespan. We strongly advise annual maintenance checks to ensure there are no serious alignment or adjustment issues and to ensure your springs are as lubricated as they need to be.
If you require help with your garage door springs, our team in Leander, Texas are on hand to help. Just give us a call to discuss your needs and we'll arrange a time to visit that suits you.
Count on us for:

Residential Garage Door Repair

Oil Tempered Torsion Springs

Garage Door Remote Clickers

Part Replacement & Lubrication