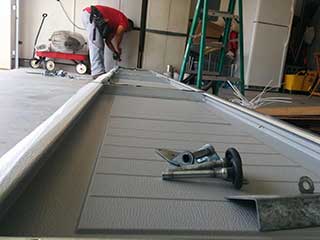 Automatic garage doors make our lives a lot more convenient, but when they break down, they can be a source of almost endless frustration, and also quite dangerous. Fortunately, with over ten years' worth of local field experience, there aren't many problems our team can't solve!
Opener Not Opening?
Your opener provides the initial burst of energy needed to start the process of opening your garage door. If the opener is jammed, disconnected or burned out, your door just plain won't open. Our technicians are familiar with openers released by all the major manufacturers, and know where to look if yours is giving you grief. If your opener can't be repaired on the spot, we'll install you a new one!
Watch The Springs
Every garage door uses one or more torsion spring, or extension springs that run perpendicular to it. In either case, the springs are where most of the mechanical force required to lift the door is stored, and retaining that energy puts the springs under a lot of stress. When a spring breaks, you don't want to poke at it yourself! The majority of serious injuries suffered from garage door accidents come from damaged springs. If you think your springs are having trouble, call a professional immediately.
Sensors And Safety Measures
If your garage door refuses to close or closes when you don't want it to, it's likely that there is a problem with your optic sensors. Most garage doors include a pair of these sensors on either side of the entrance, and their job is to detect obstructions in the path of the door, and prevent it from closing. If the sensors are jammed, damaged or misaligned, your system could be getting all sorts of false readings. Our team will test for any possible sensor related problem, and resolve it accordingly.
Call Us Today
We can send our team out on weekends and weekdays alike - our services are available anywhere in Leander, so if your garage door is giving you grief, give us a call and allow us help you out!
Count on us when it comes to:

Torsion Spring Adjustment

Broken Garage Door Track Repair

Screw Drive Opener Replacement

LiftMaster Chain Drive Lubrication